BY: Karen Weaver Contributor Forbes SportsMoney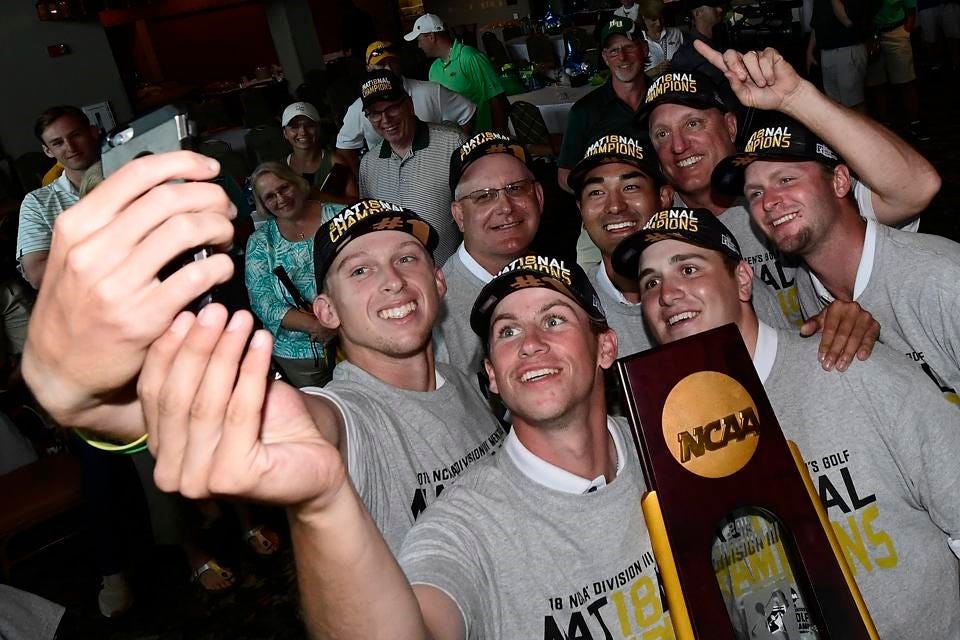 GREENSBORO, NC – MAY 18: The Methodist University Men's Golf team takes a selfie with the champions' … NCAA PHOTOS VIA GETTY IMAGES
"United we stand, divided we fall" is a rallying cry today for those who cherish all that we know about democracy. And on this historic day, January 6, 2022, we reflect on many of the democratic institutions we hold dear, as well as those we'd like to see "do better." I place the member institutions of the NCAA in the latter category.
As the NCAA Convention draws near, I am hearing much frustration from colleagues and presidents who work in Division III. With more than 450 institutions, Division III is by far the NCAA's largest bloc of schools, and in this upcoming Constitutional Convention, they have significant leverage to advance their views and needs. If, as the NCAA has noted, this unique gathering offers the rare opportunity to allow for "one vote, one school" accountability—eliminating the complex path currently enjoyed by the NCAA administrative structures—then why are Division III presidents who hold the voting power for their schools being told to accept the status quo before the formal vote?
The issue revolves around money (doesn't it always?). The working committees and "powers that be" have let it be known to the Division III presidents and their representatives that they should be grateful for their 3.18% annual portion of the NCAA's March Madness revenues coming from the men's basketball tournament. Never mind the Gender Equity Report commissioned by the NCAA about the economic value of the women's basketball tournament (which was always a "throw in"). The consultants estimated that "the (women's basketball championship) alone to be worth between $81-$112 million/year beginning in 2025, the first year after the current NCAA agreement with ESPN expires. A new 8-year, $909 million deal would be worth an average of about $114 million per year; a 10-year, $1.2 billion agreement would average $118 million per year."
Does this mean the women's tournament was worth $0 before the study was commissioned? Clearly not. As a media rightsholder, the NCAA has for far too long left money on the table (a lot of money) to the great detriment of all members.
The Impact On Athlete and Institutional Welfare
In a time when all of higher education is dealing with the economic fallout from the pandemic, declining state support for post-secondary education, federal rules and regulations requiring more compliance expertise on campus, and student debt at an all-time high, this is not the time to accept what the organization is selling to Division III.
Of that 3.18%, Division III distributes 75% to run the Division III championships and 25% to conferences offices. This formula leads to a poorly funded attempt to deliver a postseason experience for the very athletes who pay a lot of money to schools that are tuition dependent. Of the Division III schools, 80% are private, receiving little to no support from state legislatures, and exist with small endowments. For many of these schools, athletics is an enrollment driver, with athletes representing anywhere from 25% to 50% of the total undergraduate population on campus. Some of these campuses offer up to 30 varsity sports, with coaches, athletes and staff working around the clock to lead them to a postseason opportunity. I wrote about one of the Division III tournaments in November when the facility issues that plagued a highly successful Trinity College field hockey team during the regular season carried over to hosting the NCAA Final Four.
Athletics is an important component of the Division III campus experience. It is also an important driver of the financial survival of many of these campuses. The primary reason many small schools join the NCAA is for their athletes to have the possibility of playing for a national championship. But at the current funding levels, the NCAA is not delivering on many of these championship experiences. Most higher-education folks don't know the real cost of hosting these events is born by the staff at the host institution. Athletic communications professionals, janitorial staff, marketing experts and facility and events staff are already overworked and underpaid, and are directed to work these events as unpaid staffers. In this environment of the Great Resignation and a national reset on work/life balance, athletic department staff members are on the frontlines of this trend.
Division III college presidents have a once-in-a-generation opportunity to negotiate a better arrangement for their athletes and staff members. Yes, the presidents can hope that the media revenues will continue to rise and therefore deliver more to the members. But considering how important college athletics is economically to almost every Division III campus in the country, now is not the time to settle. Your athletes and staff deserve better—why not fight for more for them?
Follow me on Twitter or LinkedIn. Check out my website or some of my other work here. 
Karen Weaver is a member of the Graduate Faculty in the Graduate School of Education at the University of Pennsylvania, ranked #1 in the nation by U.S. News and World Reports.
In Fall 2021, she will lead a brand new program at Penn GSE for senior campus leaders on oversight of college athletics.
She is an expert on college sports as they intersect with higher education management, media, and policy. Dr. Weaver examines college athletics from the perspectives of university presidents and trustees, athletic conference organization, higher education scholars, and sports finance.
She spent 14 years in the Big Ten Conference as a coach and administrator. She also led her team to the Division III NCAA National Championship in field hockey in 1986 (21-0), Additionally, she has been an athletics administrator in NCAA Division III.
Dr. Weaver has received numerous honors and appointments during her years in college athletics.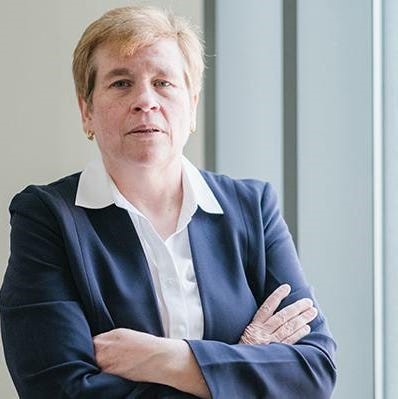 < Back to The Latest