Some things really set me on 🔥 Innovation is one of those things that drives my curiosity. And having partners on the journey like #CathyHackl, Gamecock Coach #DawnStaley & player #AliyahBoston make it that much more awesome. Please read Cathy's description below of how we built what we believe to be web3.0's new standard for public service announcements ⬇️⬇️ Download the hologram and see how Dawn and Aliyah come alive right before your 👀 and in the room with you. It didn't require a✈️🚇🛳🚖 only your smartphone or device!
The Metaverse in multiple forms can and I believe will transform sports and entertainment, fashion, art, ticket sales- you name it!
I'm hoping some smart brands get onboard with us to take #MarchMadness to a whole other level. Reach out to Cathy and me if you want to compete on a whole other level.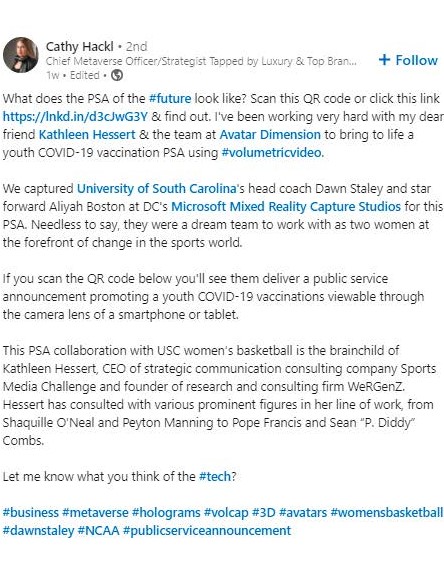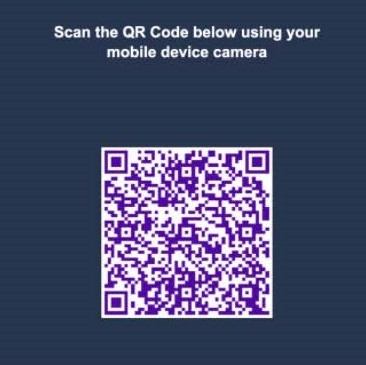 Here's some background on how Cathy Hackl, AvatarDimension and I produced the #volumetricvideo (hologram) featuring #Gamecock Womens Basketball #DawnStaley to promote youth vaccinations. ⬇️
But don't stop there, imagine how the #sports #entertainment industries and corporate brands can leverage holograms to take their #marketing to much higher levels and wow their fans. Reach out to Me if you're interested in talking strategy and activation.
#Metaverse #ncaa #womensbasketball #MarchMadness #brands #NIL #nft #studentathletes
#collegesports #microsoft #ncaabasketball #ncaa 
#womensbasketball #coach #recruiting #PSA #metaverse #womensfinalfour
#marchmadness #innovation #hologram #competition #sports #entertainment #strategy
#teamwork #vaccinations #covid #GenZ #youth #healthcare #marketing
< Back to The Latest